Richard D. McCall: Way of Warrior Trader: The Financial Risk-Taker's Guide to Samurai Courage, Confidence and Discipline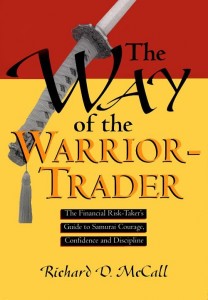 Bez wątpienia najlepsza książka o psychologii tradingu jaką przeczytałem. Autor, mistrz wschodnich sztuk walki porównuje zmagania tradera do tych, z jakimi zmagał się samuraj kilkaset lat temu. Bez wątpienia, były to osoby o niesamowitych umiejętnościach panowania nad swoim umysłem i ciałem – jednym słowem umiejętnościach, które są niezbędne podczas zmagań z rynkami finansowymi. Przenosząc metody panowania nad emocjami ze wschodu do zachodniej cywilizacji, autor stworzył rewelacyjny podręcznik radzenia sobie ze słabościami w sposób, w jaki radzili sobie mistrzowie. Pomimo, iż książka jest o tradingu, jej zawartość to przemyślenia na temat filozofii życia oraz sensu istnienia, a co najważniejsze, jak żyć w zgodzie z samym sobą i całym otaczającym nas światem.
Bez wątpienia mogę powiedzieć, że jest to najlepsza książka o tematyce samodoskonalenia jaką przeczytałem dotychczas.
Moja ocena: 5+/5