ISM Manufacturing Index
Definicja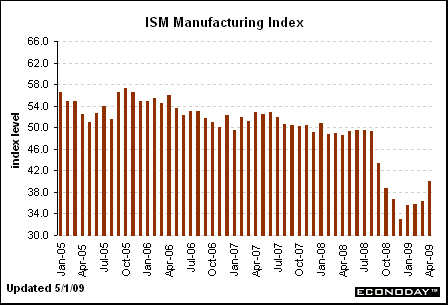 Publikowany przez Institute for Supply Management (USA), jest ankietą ponad 300 firm produkcyjnych, które odpytywane są o sytuację w zatrudnieniu, produkcji, nowych zamówień, dostawach oraz zapasach. Zebrane dane są przeliczane do jednej liczby, której wartość pokazuje na jakim etapie znajduje się aktualnie przemysł produkcyjny. Odczyt powyżej 50 oznacza wzrost, poniżej – kurczenie się tego sektora. Odczyt pomiędzy 43 – 50 oznacza, że gospodarka w dalszym ciągu rośnie, pomimo kurczenia się sektora produkcyjnego.
Znaczenie dla inwestorów
Inwestorzy bardzo uważnie przyglądają się gospodarce, dzięki czemu mogą przewidzieć jakie zyski przyniosą poszczególne inwestycje. Rynki akcyjne z entuzjazmem przyjmą informacje o wzroście gospodarczym, ponieważ to oznacza większe zyski spółek, w które inwestowali. Rynek obligacji z drugiej strony, jest bardzo wrażliwy na zbyt szybki wzrost powodujący wzrost inflacji. Opisywany indeks przedstawia dokładnie co dzieje się w sektorze produkcyjnym. Jako, że jest to sektor, który powoduje istnienie cykli ekonomicznych, znaczenie raportu ISM jest bardzo duże. Składowe raportu pokazują jak kształtuje się sytuacja na rynku surowców, w związku z czym, wskazują na potencjalny wzrost/spadek inflacji. Członkowie FOMC biorą pod uwagę ten wskaźnik przy podejmowaniu decyzji odnośnie stóp procentowych, dlatego też rynek obligacji jest bardzo wrażliwy na jego odczyt. Indeks ISM Manufacturing wskazuje na ogólne trendy w sektorze produkcyjnym. Jego znaczenie jest tym większe, że publikowany jest 1 dnia każdego miesiąca i nie podlega korektom
Interpretacja
Ceny obligacji wzrośną, gdy indeks ISM Manufactirung okaże się słabszy niż oeczekiwano. Jednocześnie, przy dużo lepszym odczycie, ich cena spadnie. Odczyt powyżej 50 oznacza, że sektor produkcyjny jest w bardzo dobrym stanie, dzięki czemu zyski korporacyjne mogą być wyższe, a to jest pozytywnym sygnałem dla rynku akcji. Odczyt powyżej 50, oznacza, że sektor produkcyjny jest zdrowy i to samo dotyczy się wzrostu PKB. Odczyt wartości pomiędzy 50 a 42,7 oznacza kurczenie się sektora produkcyjnego, aczkolwiek przy niewielkim wzroście PKB. Dodatkowo, wartościowych informacji dostarczają sub-indeksy służące do obliczenia ostatecznej wartości. Służą one do prognozy samodzielnych wskaźników, publikowanych później w ciągu miesiąca. I tak,
składowa produkcyjna (Production) odnosi się do indeksu Produkcji Przemysłowej (Industrial Production),
składowa nowych zamówień do Indeksu Zamówień na Towary Trwałego Użytku (Durable Goods Orders),
składowa zatrudnienia (Employment) do Zatrudnienia w Przemyśle (Factory Payroll)
składowa cen (Prices) do indeksu Cen Producenta (Producer Prices)
składowa zamówień importowych i eksportowych (Iport/Export Prices) do wskaźnika towarów w imporcie i eksporcie (Merchandise Trade Imports/Exports)
składowa dostaw (Supplier Deliveries) jest elementem Wskaźników Wiodących (dzięki niej, można zauważyć, że jeśli zamówienia są realizowane wolno – wzrost gospodarczy jest bardzo szybki, firmy nie nadążają z produkcją w związku z czym może powstać ryzyko inflacyjne; zamówienia realizowane szybko wskazują na ich niewielką ilość – osłabienie gospodarcze.
Sam indeks ISM Manufacturing charakteryzuje się dużą zmiennością, więc zaleca się stosowanie 3 miesięcznej średniej aby uzyskać lepszy wgląd na aktualny trend.
Częstotliwość publikacji
Miesięcznie
Data publikacji
Pierwszy dzień roboczy miesiąca za poprzedni miesiąc (dane za kwiecień opublikowane zostały 1 maja)
Korekty
Brak, lub jeżeli są – bardzo niewielkie. Zazwyczaj wprowadzane są elementy wykluczające czynniki sezonowe. (w przygotowaniu opisu skorzystano z http://bloomberg.econoday.com)